Precious & timeless
investments with a
modern technique.
Refinery
Kundan Refinery is a most treasured business unit of "Kundan". Since 18 years, KUNDAN has marked its presence in precious metals and continuously progressing for the tremendous achievements. Kundan care Products Limited established one of the largest Gold and Silver refinery in India known as "Kundan Gold Refinery' well equipped with breakthrough technologies, trend setting labs and highest quality standards. Due to advancement and competitive trends worldwide in precious metals market, Kundan commit highest quality and distinct services to their customer. Kundan Gold refinery is acknowledged as major importer of Gold and Silver. .
It is well known as largest Gold refinery in private sector in India. For the lavish supply 24x7 of Precious metals, Kundan has build up its own refinery for in-house processing. The periodic output of almost 300 kg, ingenious manpower, approachable geography, consistent quality, 24x7 supply, safety, maintenance and our environment friendly nature certified as forge ahead refinery in India.
Refining technology
Aspiring for the Modernized and advance technology, Kundan has brought up world class Gold Refinery. First in the country in terms of Speed, cost effective as well as environmental excellence.
Our R&D investments have led to a significant reduction of the total refining time process as well as sound procedures to produce less emission.
Our technology requires the need for pretreatment measures that utilizes the highly dangerous refining process. As a result, our facilities are safeguarded for both our employees and the environment.
As a reason of our dedication as well as for the advancement of refining technologies we are fitted to produce the highest grade precious metals. The cumulative effect of these measures ensures that your precious metals refining needs will be met in the most efficient matter.
Refinery Process and Testing:
Kundan has always been certified for its uniform standards. Therefore to maintain forward, advance research and testing lab is the most important objective.
Gold refining is done by aquaregia as well as incortation process whereas silver refining is done by electrolysis as well as chemical precipitation after processing several traditional and instrumental testing methods applied for the desired result.
Our advance assay and refining technology enable us to settle every lot 24 hours from receipt. Along with traditional Fire Assay method we also own and operate with latest analytical electronic instrumentation such as XRAY and ICP.
XRF facility for both gold and silver testing is also available along with the purity testing by traditional water density method.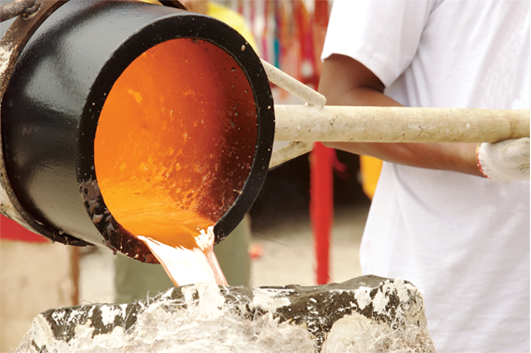 Quality assurance and control
Precise Assay: Our assays are known as most accurate Method. Our extensive knowledge, state of art equipment, and the meticulously trained staff result in assay and results more efficient product.
Using classic fire assay techniques, as well as accurate analytical electronic instrumentation such as spectro Midex X- Ray and spectro arcos ICP, rest assured of a clean precise result every time.


Reliable Customer Service
Kundan is separated from the rest in the crowd due to Excellency for its customer service that exceeds expectations. With a dedicated team to professionally support refining needs, we are consistently praised by our esteemed clients for the satisfaction they are getting from Kundan. Trust has always been a crucial element in quality customer getting service and overall success in business. As the world moves increasingly towards digital communication and operation the idea of trust takes on a new meaning for business today. Kundan operates under the guiding principles of equitable treatments, transparency and clear communication. These beliefs force ethical standards and trusting relationship amongst all of our customers.
Our company strictly follows AML policy both for customers/suppliers. our company also follows OECD guidelines.